2015 Virginia Summer Lego Robotics/Minecraft/ScratchTechnology and American Girl Camps! McLean/Falls Church, Alexandria, Arlington Locations!
Featured in Northern Virginia Magazine

When children build and create, they are developing critical parts of their mind, reinforcing academic success, and gaining happiness and self-esteem.

Renaissance Summer Camps 2015!
DREAM IT!   DESIGN IT!   BUILD IT!   SHARE IT!

              

Registration for our 2015 Summer Season is Open!
              

Please Click the link above to register!
 Take advantage of our Early Bird Discount on ALL Camps Until February 28th!   
Engineering, Robotics, Programming, Electronic Game Design, Creative Arts
Thank you for considering Renaissance Summer Camps!
When school is out, Renaissance is in!
STEM EDUCATION – LIFETIME SKILLS – BUILDING A FOUNDATION
Fantastic camps mixed with detailed instruction and inventive building strikes a fun balance between creativity and structure. Let your child be one of the first to experience the computer based Robotics program designed by MIT and Carnegie Mellon University for Lego Education(not available in stores). Renaissance Summers inspire your child's creative thinking and curiosity with fun and STEM educational science and engineering projects that help to develop critical thinking and problem-solving using an award-winning computer based program and Lego models. We add sun and fun in the park or playground as well as the best-trained Lego coaches to help make the full day complete! Spaces are limited!
Why Robotics?
Robotics is a system that teaches students how to build robots or smart machines using motors and sensors, and how to program them using an easy programming language, all in an environment of fun learning and excitement. By building robots, the students will easily practice a set of subjects such as Science, Technology, Engineering and Mathematics, as well as essential "21st century skills".
In 2009 Renaissance offered our first  STEM (Science, Technology, Engineering and Mathematics) camps and workshops to students in elementary  schools. We understand the talents and abilities of kids and want to make STEM irresistibly FUN, like it should be. And what better way to do that than to get kids hooked on robotics and engineering.
Renaissance is the STEM Learning Place, a non-profit organization, serving the Greater Washington DC Area. Our goal is to make learning exciting by providing engaging Science, Technology, Engineering, and Mathematics (STEM) programs to schools, families and the community.
We think we're preparing kids for the future…kids just think its "cool!"
Why Us?
Our society is built on science and technology. In order to be educated and engaged citizens of the world in the 21st century, everyone needs to know and understand the basics of science, technology, engineering, and mathematics (STEM). We believe it is important to engage children in STEM before they leave elementary school and to introduce them to skills they will need for success in life!
Kids love our camps and summer is the perfect time for them to experiment and learn in a fun and stress free environment.
The Renaissance curriculum develops skills essential for thriving in the 21st century. Using the standards created by International Society for Technology in Education as guide, our curriculum provides students with early technology literacy.
Through our camps and after school enrichment programs, students learn more than basic technology operations and concepts. Our curriculum promotes:
Creativity
Innovation
Communication
Collaboration
Critical Thinking
Problem Solving
Decision Making
Digital Citizenship
Love for Learning
Our lessons provide hands-on and interactive learning using a variety of developmentally appropriate hardware and software, LEGO® robotics, digital media and more. We create a fun, exciting and challenging environment for learning that children love.

See What's New in 2015!     Minecraft Adventures Camp
Arlington Location
Explore your opportunity to take part in our Minecraft Adventure Camps in Arlington! Collaborate with friends while you meet new challenges. This camp is for the beginner as well as more advanced Minecraft Adventurer. Our adventure will be to build spectacular cities and to collaborate with friends to help with daily challenges. Parents need to register their kids for a free account prior to the start of class. Bring your Laptop if you wish or Laptop computers, software and all other supplies and materials will be provided.
 Indoor and outdoor fun for rising grades K-6
Weekly Camps
(no camps the week of July 4th)
June 22 through August 21st
Full Day 9am – 4am
Half Day 9am – 12am or 1pm – 4pm
***Before & After Care Options  at  all  Locations***
 Scratch Programming By M.I.T. Kindergarten Lab Project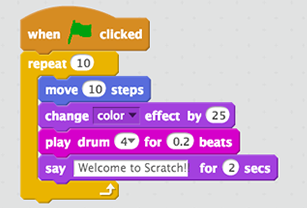 Scratch Programming: Here is the program your technology minded student has been waiting for. With Scratch, your child will learn how to create computer programs using drop and drag technology that will bring their imagination to life right before their eyes! They will have the opportunity to make cartoons, movies, video games, animate their stories and compose music all done with Scratch. When your child comes home every evening from camp ask them to show you what they created. You will be amazed!!
FAST FACTS
 Campers have a wide variety of summer camps to choose from based on their individual interests and hobbies.
 Lego® camps, Technology camps and American Girl Art camps categories.
 Multiple summer camp choices and locations within each category plus outside play.
  Discounts are available for siblings and multiple camp registrations. Early Bird Discounts until  February 28th.
 Design your own camp! Half & Half Camps are so popular because they are designed by you and give your child the best of both worlds-Lego Robotics Half Day/American Girl Half Day in the same week!
CAMP OVERVIEW
Lego Action Jrs. Engineering Camp

– for the younger group of builders who are starting to build and can complete simple projects but may not be ready for a robotics program. Then, this is the beginning engineering class for your future architect , engineer or scientist. Builders make simple machines either by following instructions or by constructing their own creations using their own talents and imagination.  Action Lego®s Engineering puts fun in motion as students learn how to use gears, motors, potential energy, and balance to create numerous contraptions. Children will get excited about building as they explore simple motorized machines.
Your student will learn cooperation as they work in teams of two learning the scientific concepts of Gears, Levers, Pulleys or Wheels and Axles. This program will improve your child's problem solving skills while encouraging team work but they will just think they are having FUN! Through the excitement of building, our summer camp students see firsthand how gears translate motion and how different types of energy can propel vehicles and machines. Our beginning engineeers are engaged in STEM education by constructing unique, exciting Lego projects. We focus on creating a fun, friendly and caring environment for our youngest Lego builders!
Lego WeDo Robotics Camp

- for campers ages 6 and up who want to take their love of Lego's to the next level.  LEGO® WeDo ROBOTICS was developed by Carnegie Mellon  University and is an educational product of Lego Education. Students will get their first introduction to robotics and programming with the exciting LEGO® Education WeDo™ Robotics Software and Construction Set. Students will learn how to program and create a working model, use software media to acquire information, and use feedback to adjust a programming system output.
Campers have a choice of building from hundreds of sets plus learning robotics , playing Lego Games, and free building and construction. Kids love the many awesome building opportunities they have at our camps!

Lego Robotics WE DO

-campers will build LEGO Robots and connect it to the computer. LEGO® Robotics classes would help students to understand a link between the virtual world (Computers and programming) and the physical world (represented by LEGO® models). Students would learn basics of programming, engineering and constructing. Students will build dancing birds, drumming monkeys, hungry alligators etc. and explore the many creative possibilities of engineering with the help of our instructors.
 LEGO® WeDo Robotics PLUS Scratch Camp

- for campers ages 7 and up that love to build with Lego's and would love to learn a fun programming environment called Scratch to make animations and games. This camp is the best way to introduce cool programming to kids. Campers get hooked on programming using Scratch, the simple drag-and drop multimedia programming language developed by MIT's Lifelong Kindergarten Project. Students will learn how to design and animate their own characters. Best of all, they can bring a flash drive to camp and take their projects home. No prior experience is necessary. Campers also experienced with Scratch are included in this camp since both Lego's and Scratch are both very open-ended projects. Our staff works with every camper to take him/her to the next level no matter what his/ her beginning point may be.

Programming with Scratch Created by the MIT Media Lab, Scratch is a programming language designed for kids. With a strong following in the education community, Scratch lets kids create and share stories, games, and animations using a super kid-friendly drag-and-drop interface. What kids can learn: beginning engineering, programming, creative thinking, reasoning, and communication, collaboration. You will be amazed at what the children create as they expand their programming skills with Scratch programming to create their own video!
There is so much more we cannot begin to cover it here,the only question is will you send your child or yourself to this Incredible Camp!

American Girl

– for the girl that loves American Girl books and dolls. Campers bring their dolls. However, we do much more than play with dolls. Sewing, art, jewelry making, fashion design and singing, dance and writing are just some of the activities our "American Girl Stars" of this camp combine for a perfect week. This camp gives girls the chance to share their love for their American Girl dolls and collaborate with friends who share the same enthusiasm and love for everything American Girl.  American Girl Camp – Girl of the Year Every year, the popular American Girl series introduces a girl with a story about finding success in the face of challenges today. From the challenges of moving to volunteering each Girl of the Year discovers something new about herself and the world around her. Learn about their history and their stories and learn how you too can make a difference! We know that every young girl is an artist, engineer, architect and visionary at heart!

Minecraft Adventure Camp-for ages 7 to 11-Using Minecraft™ as a learning tool, campers utilize various Minecraft skills to customize and create their own legendary worlds! Similar to our Lego Robotics program, our new Minecraft camp combines the very best of popular technology (Minecraft!) with opportunities for collaborative learning, creativity and innovation all in a safe and fun setting for your children. Utilizing the educational version of Minecraft, campers will be encouraged to explore their creativity by building villages, castles, monuments, working machines, and countless other possibilities within the confines of this virtual world. The emphasis will be exploring how a game kids clearly love can be utilized foster students' important 21st century skills, including invention, collaboration, communication, and digital citizenship.  Campers may choose to work with other campers or on their own, but group participation is highly encouraged.  By working in the same world with multiple players, campers assume different roles (builder, architect, resource gatherer, protector, team leader etc…) where communication and fulfilling one's role is very important to achieving the group's collective goals. This is a half day camp and is available at our Arlington location only. Not all programs are offered at all locations. Minecraft can be either a half day camp or may be combined with another half day camp for a week of double the fun and learning. Please email us for a Half & Half camp form it you want Minecraft to be a part of your Half and Half Camp. Please contact us for more information. 703-244-0585

Half & Half Camp

-design a week long camp for your child that is taylor made just for her/him! This is an idea that our parents asked for and we are able to challenge the camper who would like to combine the best of both worlds in one camp. American Girl plus Lego/Robotics or Lego Robotics and American Girl /Minecraft all in one unique, fun filled week. Paper Registration is needed for this camp. Sorry, this camp is available at our Arlington location only! Please email montessorieducate@yahoo.com to receive registration forms for Half and Half Camps in 2015 in Arlington.

*Flexible Weekly Scheduling-Mix and Match camp programs as much as you'd like, we've got you covered in our Half & Half Camps!

Early Bird Discount on Half & Half Camps!
 What Renaissance Parents Have to Say
"My son absolutely loved this camp. As parents, we liked it too because of the great instruction, quality care, and attention the staff provides. It is great that you give the kids so much individual attention and encouragement. Thanks!!" – Parent of a 2nd grader
"My kids both really enjoyed the camps this year, as well as last year. My daughter was always excited to show me what she had learned. My son also had a great time in your camp, where he learned how to make his own computer games. He was thrilled to learn these new concepts, and I was very impressed with the new knowledge that he came home with." – Parent of a 4th and 5th Grader
"I just wanted to let you know that my daughter had a wonderful experience at the American Girl Camp in Falls Church.  This was her first time ever in a summer camp and she loved every minute of it.  From the counselors, especially Counselor Katherine, to creative play, and all the art, my daughter Olivia had a smile from ear to ear. We will absolutely be there next year and will recommend this camp (American Girl/Lego) to everyone we know. "-Parent of a First Grader

"Your camps were fantastic. My son had a wonderful time and loved it. The instructors gave the kids challenges, but also the freedom to explore on their own. The (lead) instructor was fantastic. He had great classroom management techniques. He commanded great respect from the kids, but let them goof off just enough to enjoy the difference between camp and school. My son gained a better understanding of motors and how they work, and the confidence to believe he can build whatever he wants. Also, he loved building the video game, and I think that is a great experience for them to begin to learn programming techniques." – Parent of a 3rd Grader

"My son is at your camp this week in Alexandria and loves it so much he didn't want it to end. So we signed up again for next week. Just wanted to tell you thanks! He is having a great time and loves all the projects."- Parent of a 2nd Grader

"I just wanted to share some feedback with you on this past session. Lego robotics was a huge hit. My kids are Lego fanatics and I love that you offer so many different Lego building projects as well as robotics."-Parent of a 1st and  4th Grader.

 "I had to tell you that my son's only complaint about your camps is that they are not overnight camps! As you can tell, he could build with Lego 24/7 with you. He loves your great staff too, especially Paul. You are really making him feel welcome! Thank you for the great job that you do!" – Parent of a 3rd Grader
"I wanted to explicitly commend you for the excellent Lego Summer Camp my 6 year old son Julian attended at your Old Town location.  From what I observed and heard from my son, the two camp counselors, Nathan and Eric were extraordinarily thoughtful and capable camp counselors. On a number of occasions I heard them talk with the children in a respectful and engaging manner aimed at boosting the children's self-confidence and problem solving skills. I was all the more impressed to find out Nathan and Eric were college graduates with engineering degrees and as such serve as excellent role models for young children, a fact that I discovered only on the last day of camp.

Julian loved the camp as it not only indulged his love with Legos, but also enabled him to form friendships and build teams with new children working together consistent with the traditional Montessori philosophy."-Parent of 1st Grader